Multi-Platinum, JUNO Award-Winning Singer-Songwriter Johnny Reid Announces National Tour
The Tour Is Set to Be One of The Longest Running Artist Tours in Canadian History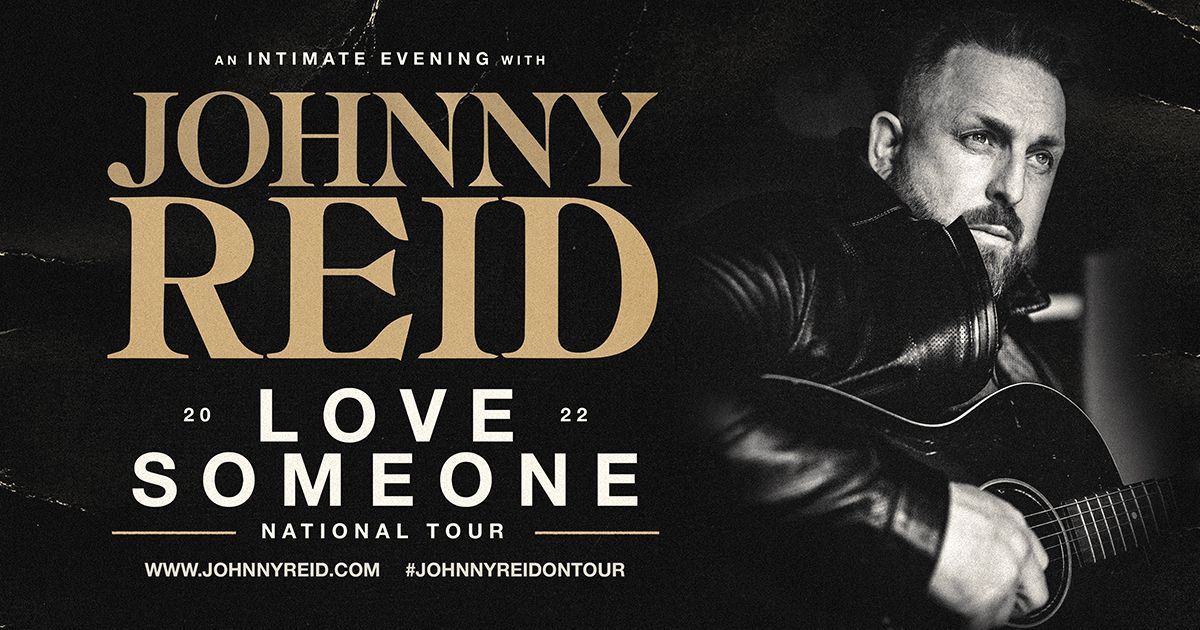 FOR IMMEDIATE RELEASE
Toronto, ON – Today, Multi-Platinum, award winning artist Johnny Reid announced his 2022 Canadian tour, Love Someone: An Intimate Evening with Johnny Reid. The national tour kicks off on February 10 in London, ON at Centennial Hall and is set to be one of the longest running artist tours in Canadian history with over one hundred shows once all tour dates are announced. Boasting a stripped-down set and stops in smaller communities that rarely get to see an artist of Reid's caliber during a National tour, Reid is making it his mission to connect directly with fans across the country.
Love Someone is Reid's 11th studio album and was released on October 15 via Universal Music Canada. A return to his country roots, the album marks his most inspired collection of songs to date. Complementing the album's inherent intimacy, the tour will give fans a rare chance to hear Reid live in a highly up close and personal setting as opposed to the major market venues and colossal crowds he typically draws. The past ten years has seen Reid perform to over 1 million people; on this tour, fans can expect an uplifting evening of songs and storytelling with the chart-topping, singer-songwriter.
With an incredible 1.5 million albums sold, Reid is a critically acclaimed singer widely known for his lyrical honesty and musical capability, as demonstrated by an extensive catalogue of hit songs and Platinum selling albums. His illustrious career has also garnered him 26 Canadian Country Music Awards, 6 JUNO Awards and multiple sold-out national arena tours. Reid is also a recipient of the Slaight Music Humanitarian Award and the SOCAN National Achievement Award. His songwriting connects with audiences of all ages from across the globe, inspiring fans with his unique ability to uncover beauty behind life's ebb and flow.
"The pandemic has taught me a lot about the value of time. I've given a lot of thought about how and where I want to spend my time. I'm really excited to bring this tour to as many places as possible. I can't wait to reconnect with all of the people that have supported me all of these years in a more intimate concert experience", said Reid.
Information on tickets can be found here.

Johnny Reid - Love Someone Tour Dates
** Tickets Already on Sale
Tartan Army Presale - Wednesday, November 24 @ 3:00 PM (Local time)
On Sale Friday November 26th at 10:00am local time

February 10, 2022 - London, ON - Centennial Hall
February 11 & 12, 2022 - Oshawa, ON - Regent Theatre
February 14, 2022 - Pembroke, ON - Festival Hall
February 15, 2022 - Ottawa, ON - Meridian Theatre
February 16, 2022 - St Catharines, ON - FirstOntario Performing Arts Centre
February 17, 2022 - Kingston, ON - The Grand Theatre
February 19, 2022 - Brantford, ON - Sanderson Centre for the Performing Arts
February 22, 2022 - Belleville, ON - Empire Theatre
February 23, 2022 - Mississauga, ON - Living Arts Centre
February 24, 2022 - Brampton, ON - The Rose Brampton
February 25, 2022 - North Bay, ON - Capitol Centre
February 26, 2022 - Huntsville, ON - Legacy Hall @ Deerhurst Resort **
February 28, 2022 - Chatham, ON - Chatham Capitol Theatre
March 2 & 3, 2022 - Markham, ON - Flato Markham Theatre
March 4 & 5, 2022 - Burlington, ON - Burlington Performing Arts Centre **
March 7 & 8, 2022 - Peterborough, ON - Showplace Performing Arts Centre
March 9, 2022 - Sault Ste Marie, ON - Sault Community Theatre
March 15 & 16 - Winnipeg, MB - Club Regent Event Centre
March 18 & 19, 2022 - Prince Albert, SK - EA Rawlinson Centre for the Arts
March 23 & 24, 2022 - Fort Saskatchewan, AB - Shell Theatre
March 25 & 26, 2022 - Fort McMurray, AB - Keyano Theatre
March 28 & 29, 2022 - Camrose, AB - Jeanne and Peter Lougheed Centre
March 31 & April 1, 2022 - Saskatoon, SK - Broadway Theatre
April 3 & 4, 2022 - Lloydminster, AB - Vic Juba Theatre
April 5 & 6, 2022 - St Albert, AB - Arden Theatre
April 8, 2022 - Moose Jaw, SK - Mae Wilson Theatre
April 9 & 10, 2022 - Regina, SK - Casino Regina Show Lounge
April 12 & 13, 2022 - Medicine Hat, AB - Esplanade Theatre
April 14 & 16, 2022 - Lethbridge, AB - Yates Theatre
April 19, 2022 - Calgary, AB - Jack Singer Concert Hall
April 20, 2022 - Red Deer, AB - Memorial Centre
April 22, 23 & 24, 2022 - Prince George, BC - PG Playhouse
April 25 & 26, 2022 - Grande Prairie, AB - Douglas J. Cardinal Performing Arts Centre
April 28 & 29, 2022 - Fort St John, BC - North Peace Cultural Centre
April 30 & May 1, 2022 - Dawson Creek, BC - Mercer Hall
May 7 & 8, 2022 - Sidney, BC - Mary Winspear Centre
May 9, 2022 - Duncan, BC - Cowichan Theatre
May 11, 2022 - Nanaimo, BC - Port Theatre
May 12, 2022 - Victoria, BC - McPherson Playhouse Theatre
May 14, 2022 - Courtenay, BC - Sid Williams Theatre
May 16, 2022 - Vernon, BC - Vernon & District Performing Arts Centre
May 17, 2022 - Trail, BC - Charles Bailey Theatre
May 19, 2022 - Cranbrook, BC - Key City Theatre
May 21 & 22, 2022 - Melfort, SK - Kerry Vickar Centre
May 31 & June 1, 2022 - Summerside, PEI - Harbourfront Theatre
June 2 & 3, 2022 - Moncton, NB - Capitol Theatre
June 5, 2022 - Stephenville, NL - Stephenville Arts & Cultural Centre
June 6 & 7, 2022 - Corner Brook, NL - Corner Brook Arts & Cultural Centre
June 9 & 10, 2022 - Grand Falls-Windsor, NL - Gordon Pinsent Centre for the Arts
June 11 & 12, 2022 - Gander, NL - Gander Arts & Cultural Centre
June 15, 2022 - Halifax, NS - Rebecca Cohn Theatre
June 18, 2022 - Saint John, NB - Imperial Theatre
June 19, 2022 - Fredericton, NB - Fredericton Playhouse
June 22, 23 & 24, 2022 - Glace Bay, NS - Savoy Theatre
-30-